IRON Pump World Wide Products
Centrifugal Pumps
CENTRIFUGAL PUMPS
ECO Pump. Light duty – heavy performer

The CNLe pump is developed in a service friendly design with the fewest parts possible, resulting in simplicity and minimization. The design is significant for a close coupled in-line top-pull-out pump. The compact and service friendly design limits the load capabilities but provides economical installation and reduced cost of ownership. Successfully designed for light duty pumping without compromising quality.
The DHBSe pump is characterized by a single maintenance free bearing arrangement and long spacer coupling. This provides sufficient stability for medium loads and easy access for changing spare parts without dismounting motor or piping. In general, the design reflects modularity and simplicity, as the philosophy was to develop a pump, easy to produce and simple to maintain. On top of this, parts were reduced by 30%.
This vertical in-line centrifugal pump is available in DN 40…200 – Flow from 5 to 800 m3/h and pressure up to 10 bar.
Smaller and lighter
Through general optimization we have succeeded in saving up to 15% weight on primary components. The design effort has successfully been focusing on improvement of the flow conditions inside the pump allowing increased media velocity and higher efficiency. This improvement enables downsizing and up to 40% weight reduction on the pump installation.
Reduced energy consumption
By combining IRON Pump's considerable pump experience with the most recent in CFD analyzes, we have achieved energy savings up to 20%.
Reliability
Despite material reduction IRON Pump's strong and well proved mechanical solutions are maintained. The two main models chosen for this program are individually featured, covering a broad variety of pump applications, on shore, for marine and for off-shore.
Ready for the future
The E-Series is in compliance with EU Directive 2009/125/EC for high efficiency end-suction pumps, thus meeting the demands for the ships of tomorrow by ensuring a lower power consumption.
Piston Pumps
PISTON PUMPS
BDV Vertical Two-Cylinder, Double Acting Piston Pump
In the 1930s, Knud Arnesen, son of IRON founder Christian G. Arnesen, developed several pump series, such as the BD piston pumps, which have remained in production up to the present day. The robust construction, the reliability and the performance supersede any other pump types of modern design. The piston pump is particularly suitable for self-priming applications and offers the user a high degree of security.
Selected features:
• Excellent suction capability
• Robust and simple design
• Reliability
• Low speed
• Low maintenance costs
• Easy valve access
• Interchangeable cylinder liners
• Integrated safety valve
• Self-priming


Applications:
Bilge systems, ballast systems, oil transfer, firefighting and general services.
Type description:
Vertical two-cylinder, self-priming, double acting piston pump.
Testing:
Test certificates according to ISO 9906-2B. Certificates according to requirements of classification societies. Surface treatment according to customer requirements.
Accessories:
Coupling, bracket for motor, air vessel, relief valve, drain plugs, oil level indicator and snifting valves.
BC
The BC is the smallest series of piston pumps in the IRON Pump model portfolio and a well-known design that has been repeated by many manufacturers. The internal gearing and outer belt drive of the BC series allows for smooth and low maintenance operation, while the piston and cylinder design reduce the amount of noise emitted. A small, double acting, self-priming, reliable, quiet, piston pump.

• Double acting piston pump
• Self priming
• Integrated safety valve
• Bevelled precision gear
• Quiet operation
• Modern seal solution
Propeller Pumps
PROPELLER PUMPS
The IRON propeller pump series QT/QTe is primarily operating in anti-heeling applications. The pump job is signified by bi-directional operation, low head and flow variating from smaller to larger capacities.
The QT anti-heeling pump series from IRON are based on the propeller principle, allowing to reverse the rotation hence controlling the flow-direction from side to side of the vessel. This by means of motor controls, and only one valve, simplifying the lay-out of the anti-heeling system significantly.

Since IRON Pump A/S first pioneered the anti-heeling pump back in 1952, the company has supplied several thousand anti heeling pumps for all kinds of anti-heeling applications. Setting standard for not only quality but for sure also reliability and flexibility in the market has led to the QT pumps by IRON can be found in almost all kinds of larger vessels throughout the world.
Being a ship designer, AHS manufacturer, shipyard engineer or the-like, take the advantage of including the QT anti-heeling pump as 3D part in your system design, and discover the possibilities the QT design offers regarding installation flexibilities. The 3D parts are available in most used formats.

QTe
The QTe is the latest developed edition to the QT series. It has been designed to meet market requirements for improved performance, small foot-print and still be easily maintained.
The motor has been placed horizontally on top, driving the pump with belts. The hydraulic part is easily accessible by removing the two intermediate sections, placed in both ends. This enables access to the wear-parts such as belts, bearings, and the mechanical seal, without removing the motor or lifting the pump from its bed.
The QTe design makes it possible to fit in spaces where other anti-heeling pumps are too large. The compact design both in height and in length between flanges makes it ideal for optimizing deck space in newbuilds, and for retrofitting in areas where no other pump fits, saving cost of pipe and valve modifications.
The simple design not only provides a rigid and robust construction but also facilitates quick inspection and service. The wide use of standard components ensures reduced cost of spare parts. The belt drive allows variations in gear ratio hence adapting pump configuration to suit the performance requirements best possible way. It also allows simple modification in case the demands should change over time, only by changing belt and cam wheel, and perhaps the number of impellers.
Options
• Flanges configuration available in DIN, ANSI and JIS.
• Pressure gauge panel
• Enhanced motor cooling
• Service-kits, consisting of belt, bearings, seals and gaskets.
• Venting device for removing air inside the pump
• Leakage indicator
Easy. The compact in-line design allows for easy service and for installation in narrow spaces, like in between the frames or stringers.

Low Risk. The belt drive design results in a compact pump with low risk and low cost operation, throughout the pump's entire lifespan. If a mechanical seal fails, the pump can easily be repaired and up and running again in no time with as little as a service kit. The entire pump can be serviced leaving the the main installation or motor untouched.

Efficiency. All standard motors can be mounted to achieve best possible efficiency and accommodate customer demands and preferred brands. Motors can be supplied for, and delivered with, frequency converters for further improvements.

As of today, 2021, we have supplied more than 3000 QT's into operation on:

• Ferries
• Ro-Ro's
• Cruise ships
• Container ships
• Heavy lifters
• Others
With an IRON anti-heeling pump, you step up securing that your cargo operations will be performed without interruptions due to heeling and trimming.
Contact IRON Pump for sparring regarding optimizing your anti heeling application.
Turbine Pumps
CVLS TURBINE PUMP
The CVLS vertical turbine pump is designed for a very wide range of applications. The construction is based on a modular concept. Number of column pipes and stages, types of impellers and bowls, sealing systems, bearing arrangements and the material selection will meet any requirements within its working area. When increasing the flow capacity, the fluid velocity in the pipe system can be maintained by fitting an enlarged discharged port, matching the pipe work.
• Reliable design
• Low speed
• Length up to 30 meters
• Easy to service
• Long shaft lifetime


Our long track-record and expertise in engineering and manufacturing of turbine water pumps really come into play when large projects land on our table. One such project is the recent case with four 20-meter CVLS pumps for Bahamas.
---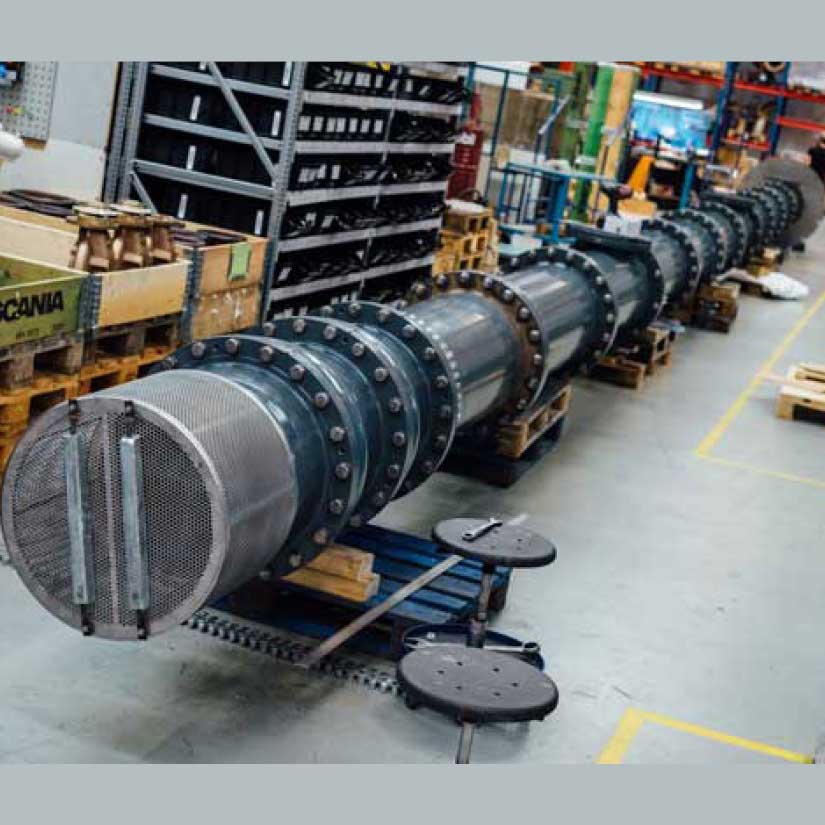 CVLS for Bahamas in production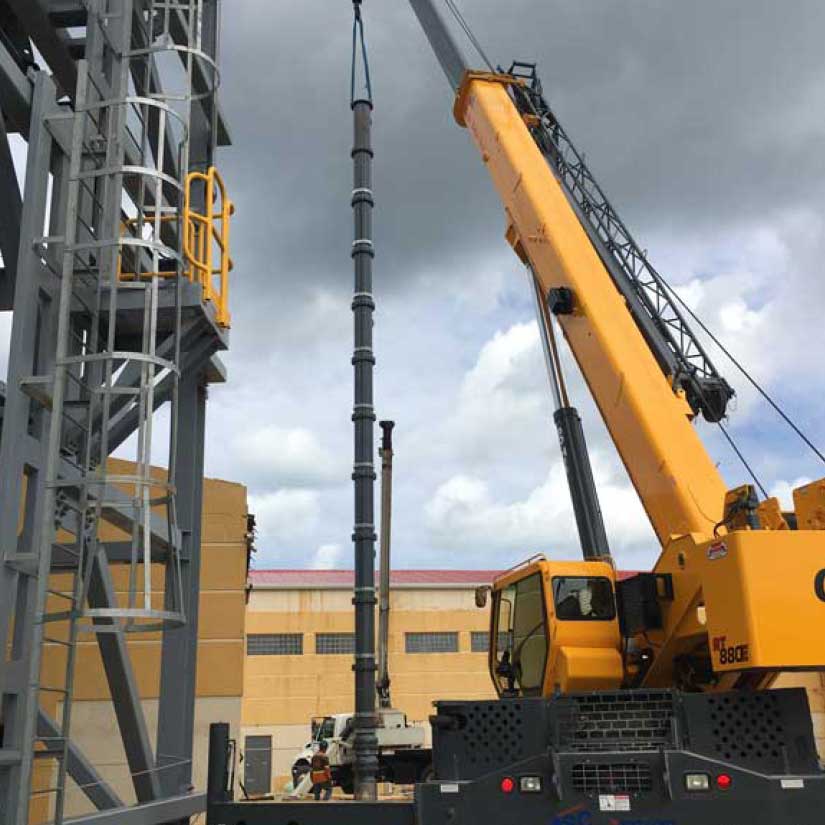 CVLS handling crane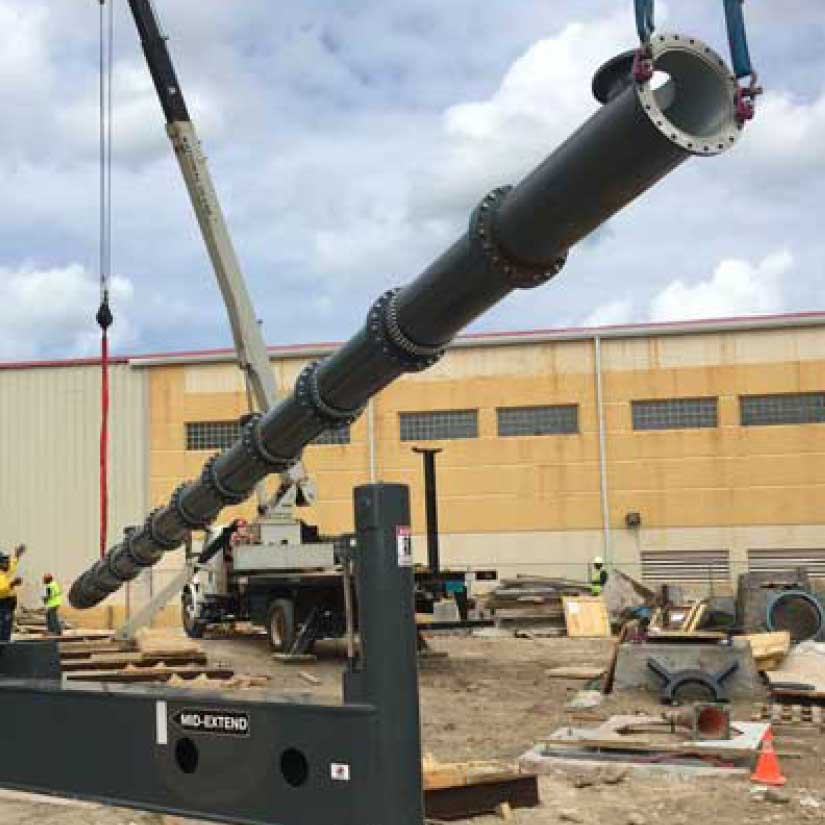 CVLS handling crane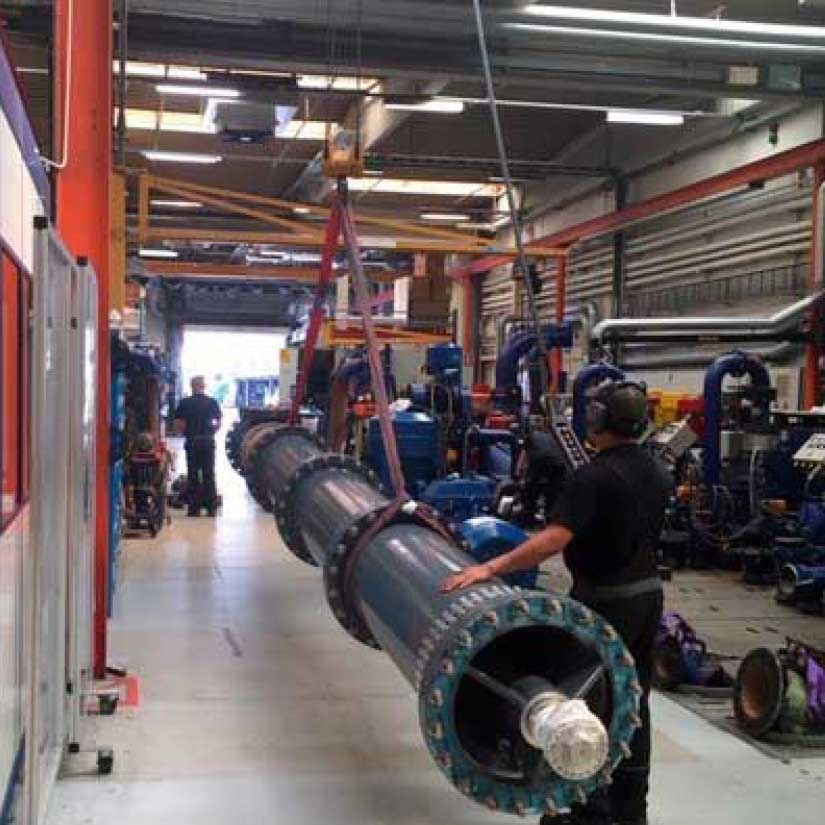 CVLS Production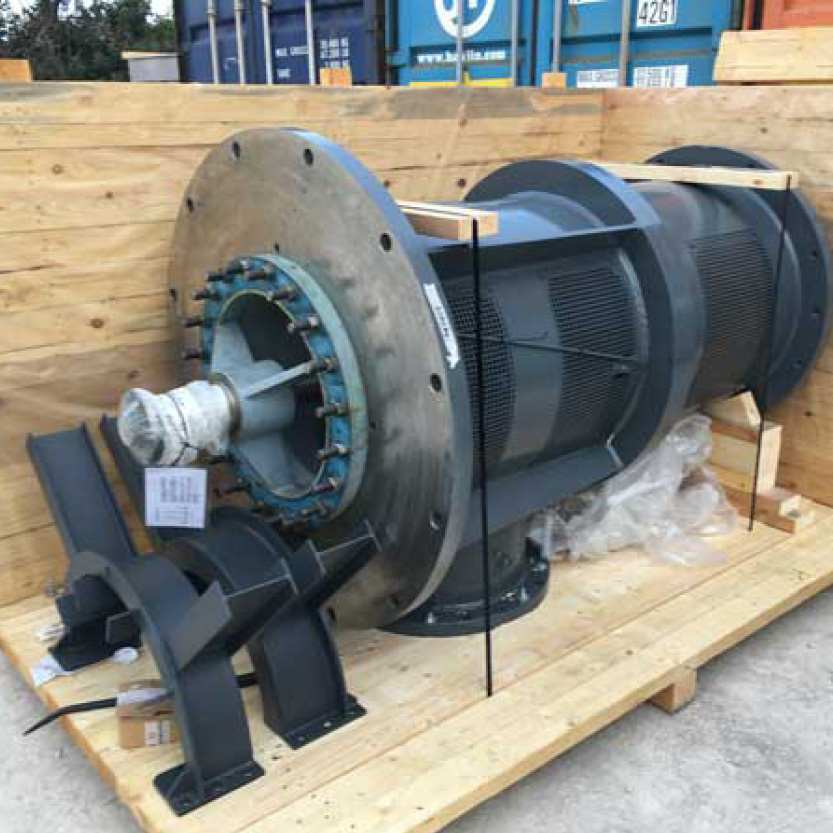 Pump housing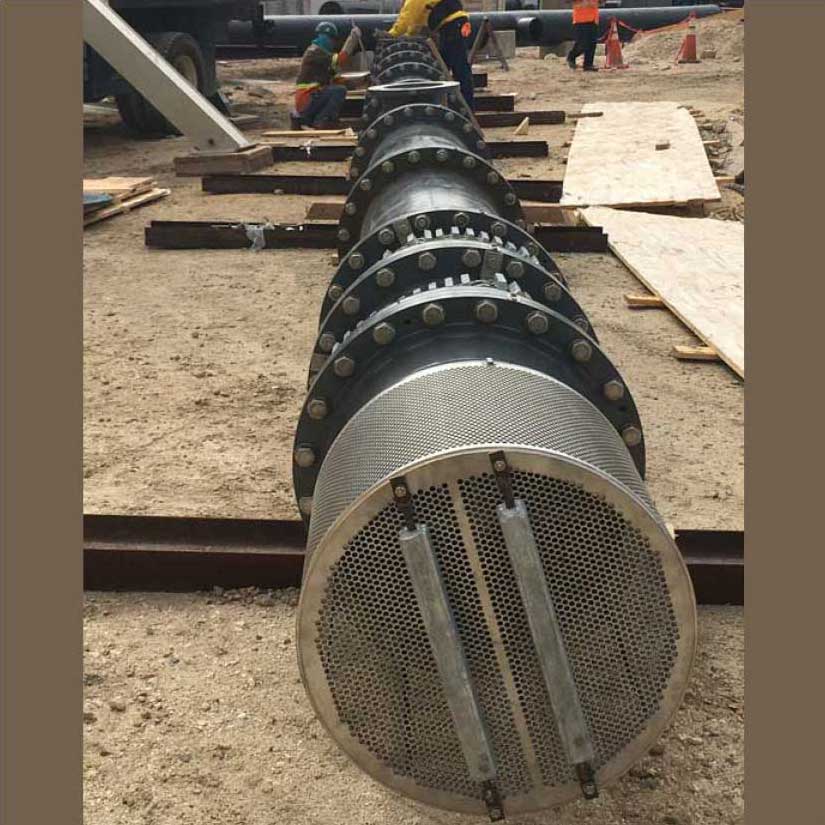 Mounting onsite Bahamas
---