IRON Pump World Class Piston Water Pumps
PISTON PUMPS
BDV Vertical Two-Cylinder, Double Acting Piston Pump
In the 1930s, Knud Arnesen, son of IRON founder Christian G. Arnesen, developed several pump series, such as the BD piston pumps, which have remained in production up to the present day. The robust construction, the reliability and the performance supersede any other pump types of modern design. The piston pump is particularly suitable for self-priming applications and offers the user a high degree of security.
Selected features:
• Excellent suction capability
• Robust and simple design
• Reliability
• Low speed
• Low maintenance costs
• Easy valve access
• Interchangeable cylinder liners
• Integrated safety valve
• Self-priming


Applications:
Bilge systems, ballast systems, oil transfer, firefighting and general services.
Type description:
Vertical two-cylinder, self-priming, double acting piston pump.
Testing:
Test certificates according to ISO 9906-2B. Certificates according to requirements of classification societies. Surface treatment according to customer requirements.
Accessories:
Coupling, bracket for motor, air vessel, relief valve, drain plugs, oil level indicator and snifting valves.
BC
The BC is the smallest series of piston pumps in the IRON Pump model portfolio and a well-known design that has been repeated by many manufacturers. The internal gearing and outer belt drive of the BC series allows for smooth and low maintenance operation, while the piston and cylinder design reduce the amount of noise emitted. A small, double acting, self-priming, reliable, quiet, piston pump.

• Double acting piston pump
• Self priming
• Integrated safety valve
• Bevelled precision gear
• Quiet operation
• Modern seal solution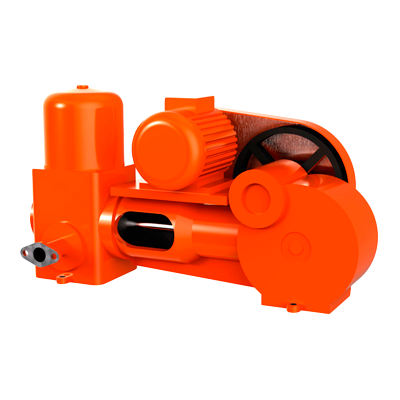 | | |
| --- | --- |
| Type: | Piston Pump |
| Features: | Self-priming, Integrated safety valve |
| Flow range: | 1 - 60 m3/h |
| Pressure range: | 5 - 140 mLc |
| Installation: | Horizontal, In-line |
| Pumped liquid: | Oil Transfer, Sludge |
| | |
| --- | --- |
| Type: | Piston Pump |
| Features: | Self-priming, Dual acting, Twin cylinder, Integrated safety valve |
| Flow range: | 22 – 290 m3/h |
| Pressure range: | 10 – 100 mLc |
| Installation: | Horizontal intlet, Vertical discharge |
| Pumped liquid: | Fresh water, Sea water, Bilge |