Although off-standard and customized water pumps are what we do here at IRON, and although we previously have constructed pumps of this scale, 20-meter turbine pumps are not everyday business.
We have said it before; a pump is not just a pump and a 20-meter turbine pump certainly is not just any pump. Our long track-record and expertise in engineering and manufacturing of water pumps really come into play when such projects land on our table. We are proud that once again, our customers turn to us for custom-made solutions.

The four turbine pumps are to be installed in a new power plant in the Bahamas, scheduled to be in operation within the next three-four months. The plant, located at Clifton Pier, replaces the existing facilities, which have been in operation since the 1980s. The new plant will have seven motors with the total capacity 132 megawatts. Our four pumps, of which the first three are already on the way across the Atlantic Ocean, supply the cooling water for the engines.

The pump media is warm saltwater, a somewhat aggressive media, and together with the high ambient temperatures, this sets high demands for the pump material. The turbine pumps, IRON model CVLS, each weighs 11 Tons (including motors). The pumps are manufactured in stainless steel, coated with epoxy and to further prevent corrosion, galvanic zinc anodes have been installed. With the shafts located 20 meters vertically in the ground, the pipes alone are very heavy and the torque on the shaft is massive.
» Our design engineers have worked intensively with the pump specifications and strength calculations. We never choose the easy and cheaper solution. We choose the correct solution «

Robert Jensen, Sales Engineer
An internal boost.
The first pump got a speedy process through the house; the order was received by end March and shipped by ultimo August. A short lead time such as this, underlines the need for speedy and effective cooperation and teamwork. Not just internally but also externally, with our global network of suppliers.

All our pumps are manufactured here in Copenhagen - under the same roof as our sales organization, R&D, design and engineering. Once again, this organizational structure has given us several advantages and has proven its worth.
IRON Pump assembly specialists will follow the pumps to the Bahamas and oversee the installation.
---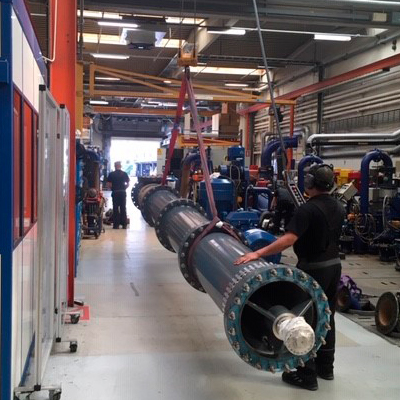 CVLS Turbine pump in test fascilities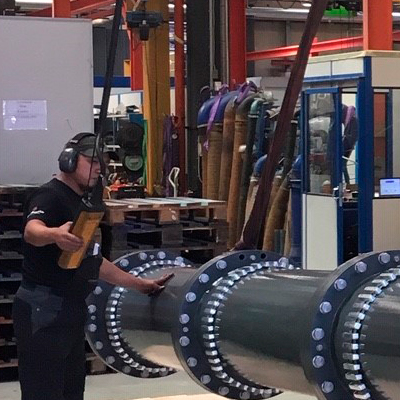 CVLS Assemby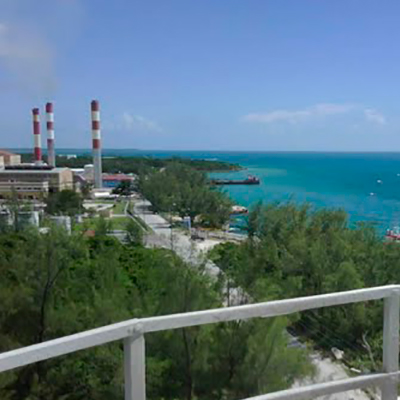 Clifton Pier, Bahamas.
» A project such as this, represents an interesting challenge to us and really offers a nice opportunity for our production team and assembly specialists to 'shine'. They find much joy and pride in creating such a pump«
Robert Jensen, Sales Engineer