From Ferry to Hospital Ship, IRON Pump is part of the journey, and the pumps onboard remain a vital part of the ship operation.
With the deployment of the former railway ferry "Dronning Ingrid" as the new flagship Africa Mercy in 2007, the Danes got a special relationship with Mercy Ships.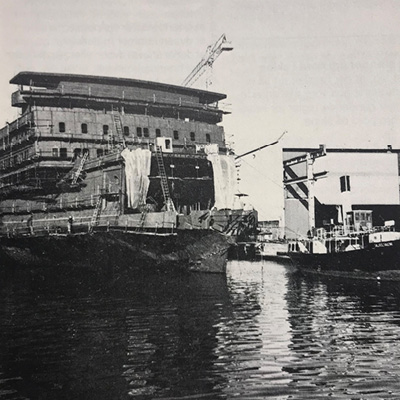 Dronning Ingrid in Yard of Elsinore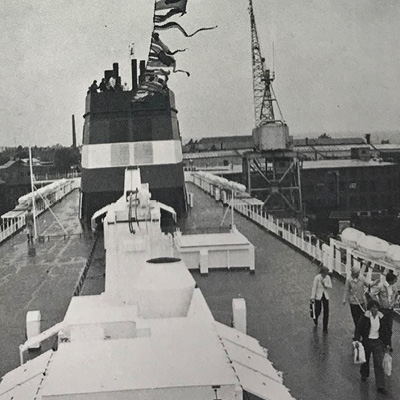 Open house was a great success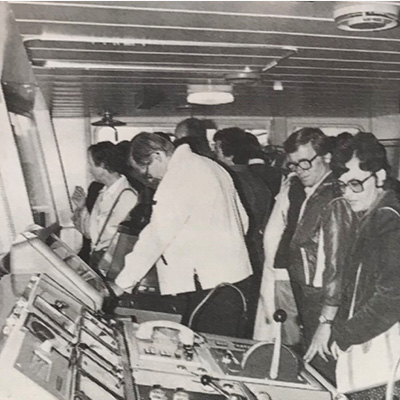 People gathered to see the instruments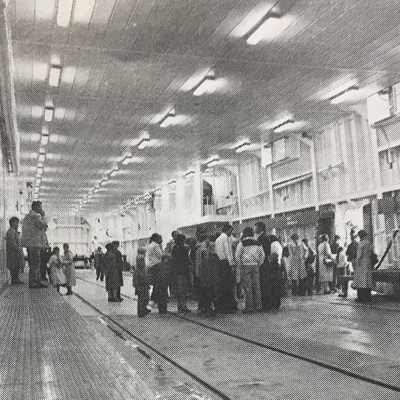 ...and the rail tracks.
"Dronning Ingrid" was built in 1980 in the Yard of Elsinore, Denmark and until 1999, where the ferry was acquired by Mercy Ships, "Dronning Ingrid" sailed the Danish Great Belt.
"In 1980, In 1980, IRON Pump proudly supplied several pumps for the ferry i.e. piston pumps for bilge applications and centrifugal pumps for cooling water. IRON Pump Service Manager Per Gudmand Jensen elaborates: "We have two piston pumps onboard Africa Mercy. The one is a bilge pump for cargo water in the engine rooms as well as a fire pump. This means that it can supply pressure to the ship's fire lines and sprinkler nozzles for firefighting. The second is the emergency drain and fire pump – a back-up system for the first pump."
"Our centrifugal pumps are versatile and are used for several applications on board, such as sea cooling water for the main engines or auxiliary engines' cooling water heat exchangers, air-condition condensers and similar systems. They also cater for hydraulic oil for bow gates, bow thrusters and the like" Per Gudmand Jensen explains and continues: "One of the centrifugal pumps is a pressure holding pump for the fire system, a so-called jockey pump.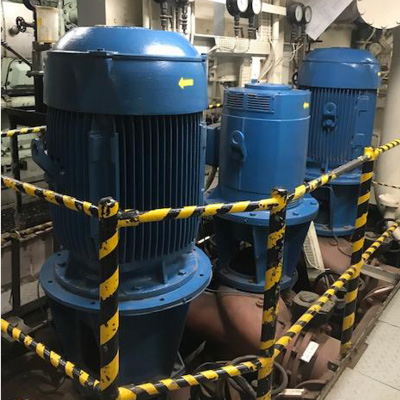 Pump installation on board Africa Mercy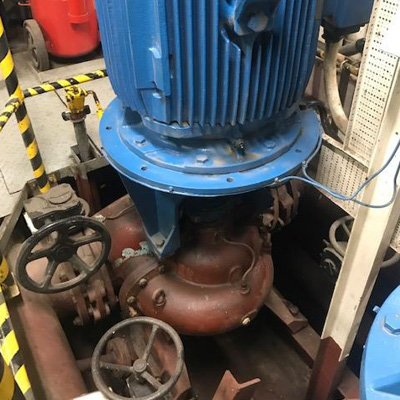 The pump series has since been updated, but the originals are still performing as required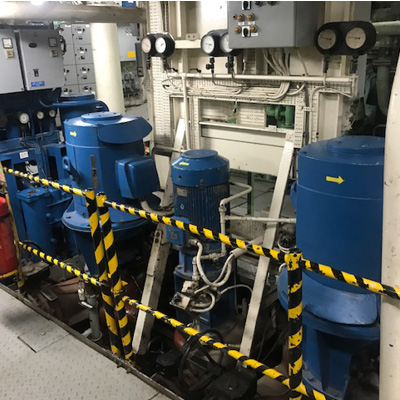 The pumps and surroundings are in good shape considering the age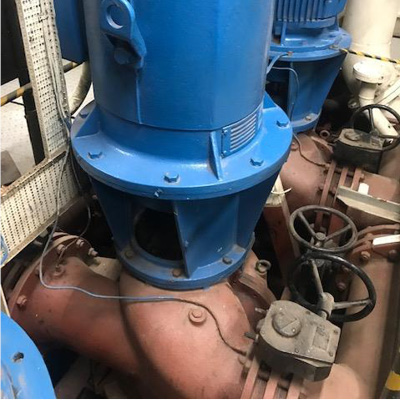 Pump close-up
This pump ensures a constant pressure on the fire system without using energy by running a large fire pump " Per Gudmand Jensen says and finishes "We are proud to support Africa Mercy by supplying our original spare parts and by providing technical support whenever required. On a day-to-day basis, pump maintenance is handled by Danish Chief Engineer Viggo Bostrup and his team".
Viggo and his Team
Viggo heads the technical department, which consists of 16 nationalities and of course, the installed IRON pumps are well-known to the team.
"I have only good things to say about IRON's pumps", Viggo says and explains how he finds great satisfaction in making a difference and in seeing the result of the work onboard.
During the past five years, he and his wife, who works in dentistry, have both volunteered onboard Africa Mercy. They are onboard the ship two-time-two months every year.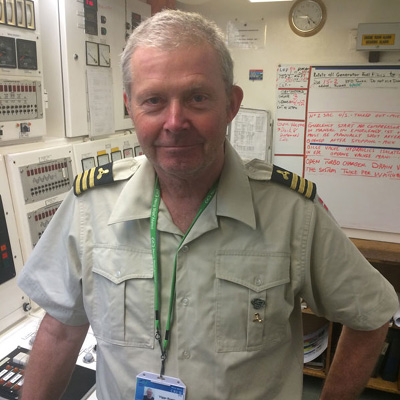 "Africa Mercy typically docks 10 months in one location where a team goes ashore to screen and enroll patients for hospitalization onboard the ship.
The patients receive an ID card and a date and location for pick-up by the team "Viggo explains and continues "Often the patients are too weak to make an operation and will therefore stay at the HOPE center up to 14 days before surgery.
There are nurses on the ward around the clock and the nurse that sat in on the patient during anesthesia is present once the patient wakes up.
I am very proud to be part of this organization", Bostrup finishes.


About Africa Mercy
Mercy Ships is an international humanitarian aid organization, founded in 1978. Mercy Ships operates from the hospital ship Africa Mercy, mainly in West Africa. The organization is based on Christian values with charity as the focal point. Mercy Ships provides free medical care to the world's poorest through healthcare, life-changing surgery, and capacity building.
After the redesign of the old ferry, there are now eight decks on Africa Mercy. The old train deck has been transformed into two decks, and here is now a modern hospital with five operating rooms, an intensive care unit, a CT scanner, X-ray, laboratories, and a recovery ward with 77 beds. Here are all the necessary laboratory facilities that are needed in connection with a hospital.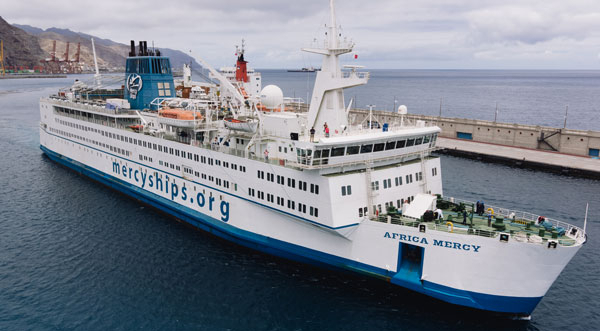 On the upper decks, up to 484 crew members are accommodated, including families, couples, and individuals. The ship has 126 cabins, a day care center, a school for all age groups incl. high school, a library, a laundromat, a small supermarket, a restaurant, a gym, shops, and a donated Starbucks café.
To learn more about Mercy Ships or to volunteer, please go to Volunteer | Mercy Ships.

Sources: Viggo Bostrup, www.mercyships.com, Museum Yard of Elsinore