IRON Pump World Class Turbine Water Pumps
TURBINE PUMP
The CVLS vertical turbine pump is designed for a very wide range of applications. The construction is based on a modular concept.
Number of column pipes and stages, types of impellers and bowls, sealing systems, bearing arrangements and the material selection will meet any requirements within its working area.
When increasing the flow capacity, the fluid velocity in the pipe system can be maintained by fitting an enlarged discharged port, matching the pipe work.
• Reliable design
• Low speed
• Length up to 30 meters
• Easy to service
• Long shaft lifetime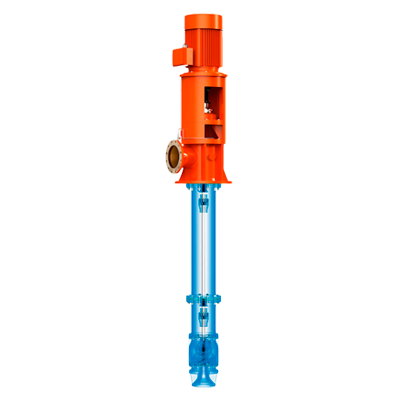 | | |
| --- | --- |
| Type: | Turbine Pump |
| Features: | Deep well, Modular length |
| Flow range: | 10 - 5200 m3/h |
| Pressure range: | 10 - 100 mLc |
| Installation: | Vertical, Horizontal discharge |
| Pumped liquid: | Lubrication oil, Oil transfer, Water |