THE PUMP, OF COURSE. But this is not the full story.
A follow-up on last month's story about the ballast water pump to NORDEN, illustrates how the organizational set-up supports and adds value to the customer experience.

From the pre-sales over product design and order handling to production and finally shipping of the goods, the IRON organization demonstrates experience and expertise.

Not seldomly, as was the case in the NORDEN project, our shipping team is faced with complex shipping details, non-standard crate dimensions and short and fast delivery time. Very early in the order handling process, the team initiates the dialogue directly with the customer to ensure the best possible freight solution and hence ensure fast and efficient on-time delivery of the goods.

To be exact, this project was shipped eight weeks from receipt of PO incl. Vendor Registration Packages etc. to shipment.

Technical Area Sales Manager, Ebbe Hecht-Hansen, is our subject matter expert. Contact directly for information.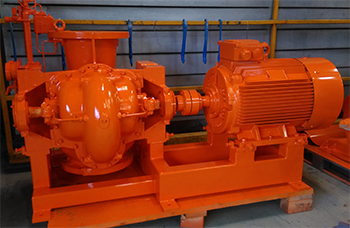 The Pump - Fresh from the paint shop