Small-footprint Anti-Heeling Pumps
The principle of the anti-heeling pump was invented by IRON Pump in the 1950´s, and it served the purpose to load more railroad load onto the ferries that tied Denmark together and connected us to our neighboring countries.
The well-known and sort of iconic QT design with the bended tube almost speaks for itself regarding simplicity and service friendliness.The only downside reg. this design is the relatively large footprint and the vide surface of wetted parts, demanding relatively large amount of the expensive seawater resistant material.
More than 50 years after the launch of the QT pump series a redesign study began in Copenhagen. The objective was to make a pump with the same qualities as the old one, but to reduce footprint and material cost and to improve the capacity, without using costly special components and maintenance demanding wear parts. The result of this effort was the new QTE belt-drive concept.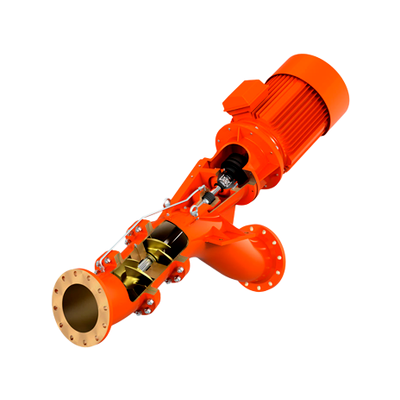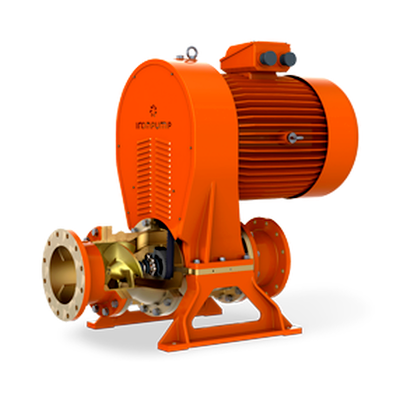 The QTE concept offers a lot of advantages.

• Smaller footprint
• ICE standard electric motor
• Increased capacity and flexible speed
• Few mechanical wear-parts
• Maintenance without lifting motor or pump
• Reduced material cost
• Highly price competitive
• Easy to alter capacity
Outstanding in its class, the QTE is equipped with a set of suction casings that not only facilitates service without lifting the pump, but also by means of four internal vanes, prevent the water to spin in the pipes generating a loss in efficiency.
The use of these flanged pipe-parts allow for flexible connection sizing starting from DN 250 up to DN 350.
These flanged pipe-parts allow us to make different sizes of pump connections only by changing the suction casing. The first standard selection included DN 250 and DN 350.
New features – New opportunities with the DN 300
The approach of a customer who desired to replace several old and high cost of ownership, anti heeling pumps of the "motor-in-stream" design, led to a modification of the QTE suction casing. Hence IRON Pump is now offering a DN 300 pipe connection and a flange-to-flange distance of 1079 mm. First shipment is scheduled for October 2020
At the yearly maintenance it is recommended to change shaft seal, one per propeller and bearings. As the belt has a long lifetime, the service recommended interval for this is two years.
{osdownloads download_button 27 "Download QTe datasheet"}
{osdownloads download_button 20 "Download QT datasheet"}