After up to 40 years of close cooperation, IRON Pump A/S acquired Ellehammer in 2017, expanding its portfolio with fire pumps and ejectors as well as a wider range of onshore and offshore solutions.
A logical step for the 112-year-old company that maintains IRON Pump´s position as a market-leading supplier of customized pumps for the industry and the maritime sector
In recent years, IRON Pump A/S has focused on expanding the company's portfolio to accommodate a growing number of requests from both the onshore and offshore sectors. The focus has been realized with Ellehammer as a confirmatory asset in the Group.
"Many of our customers are suppliers of system solutions, and with the expertise that comes with Ellehammer, we are now able to offer more complete solutions along with our component production. For example, within firefighting, in which field we supply a wide range of package solutions for e.g. steering and motor mechanical systems. Ejectors are also part of our current repertoire - a pump type that matches our production equipment very well," says Anders Frimodt-Møller, CEO of IRON Pump.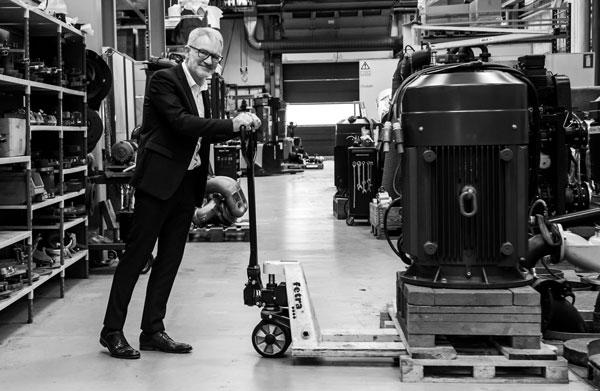 Quality, flexibility and energy efficiency
With more than 110 years in the industry, the IRON Pump product range covers an extensive program that can be customized to meet customer needs with focus on quality, flexibility and optimized energy efficiency.
"We deliver high quality solutions, we are solution-flexible and available when our customers need us. The extensive program of our product range can be adapted to some extent, e.g. if the space is limited or turned in a particular way, and we have constant focus on life-time costs. Thus, the purchase of our pumps and package solutions might be a bit more expensive, but the investment will pay off in the long run due to the extended lifetime and reduced energy consumption," Anders Frimodt-Møller explains and continues:
"We continually strive to develop and increase efficiency and to reduce energy consumption. This is equally important to our customers, and if a customer e.g. wishes to reduce energy consumption, we will streamline the pumps and thus optimize the energy consumption of that specific system. Energy efficiency, low consumption of spare parts and flexibility are some of the major issues today, and we are creating excellent, future customer relations by managing this as well as we can and do today," Anders Frimodt-Møller concludes.
Facts
IRON Pump A/S was founded in 1906 and is now a global company with a core of about 100 employees.
The company specializes in water pumps for the maritime sector and offshore industry and also delivers to power, heating and waterworks.
IRON Pump´s production and headquarters are located in Copenhagen, Denmark, and the company exports to more than 70 countries in cooperation with a regular network of agents .
Since 2017, Ellehammer is part of IRON Pump, which compliments the company's expertise in cooling and ballast pumps with ejectors and a range of fire extinguishing pumps.
Article contribution by Trade Magazine Søfart